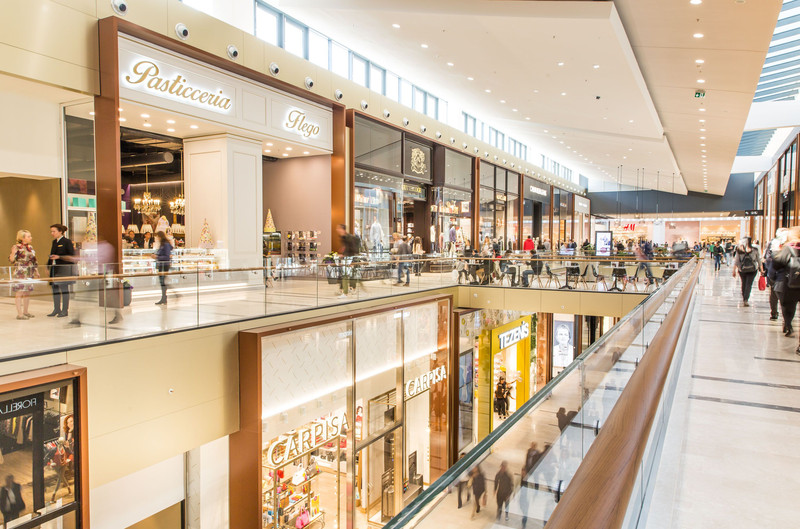 Unique shopping experience featuring more than 130 stores of international and Italian brands / 100% leased out
The stage is set for Verona's new shopping arena: Today, Adigeo, ECE's new shopping center in Italy, will open to the public for the first time. On a leasable area of 47,000 m², more than 130 shops will welcome customers with an attractive mix of international and Italian concepts and a large number of dining options. Following a construction time of 18 months, Adigeo will open earlier than originally planned. Adigeo is 100% occupied, all rental areas were leased long before the grand opening.
Due to the high demand in shop space, ECE had added further space during the planning and construction phase, which will complement the originally planned floor area of the center. The extension is already part of the center now completed and will be opened once the interior fittings have been finished: The Irish fashion retailer Primark will become a further anchor tenant and open its first shop in the region of Verona, which will comprise 6,200 m².
The center was realized by a partnership of ECE, the real estate developer CDS Holding, and CDS Costruzioni as general contractor. It is part of an extensive city quarter enhancement in the south of Verona. ECE invested approximately 170 million euros into the project. ECE Italia will take over leasing and management services for the center on a long-term basis. Adigeo will create approximately 1,000 jobs in total. Currently, ECE is operating two further centers in Italy: Megalò in Chieti and La Cartiera in Pompei.
"Adigeo is an excellent example for a modern, consistently customer-orientated ECE shopping center with a high quality of stay into which we poured all our expertise," says Joanna Fisher, Managing Director Center Management at ECE. "We will provide our customers at Adigeo with a convincing, convenient, and modern shopping experience featuring a large number of services, a premium architectural design, a comfortable ambiance, and an exciting tenant mix."
"The fact that the center was already fully leased out far before the opening confirms the very high quality of the concept and the location of Adigeo", says Christoph Augustin, ECE Managing Director International and Project Director for Adigeo. "Due to this great interest in the project we have already realized an extension which is fully leased out as well."
Varied tenant mix with many strong brands
At Adigeo, ECE has put together a varied branch and tenant mix. At more than 130 stores, numerous renowned international brands, popular Italian labels and local retailers will fulfill the customers' wishes. Many concepts will open a shop in Verona or the surrounding region for the first time, including the Inditex labels Oysho and Zara Home, the sportswear retailer Snipes, JD Sports and Just Play It by Nike as well as numerous other international concepts such as Deichmann, Fielmann, Guess, Jack&Jones, Lego, New Balance, Superdry and Tommy Hilfiger. In addition, Italian brands like Harmont&Blaine and Valerio 1966, and the food retailers Dispensa Emilia and Baccanale will open an outlet in Verona and the region for the first time. Show less
Adigeo will further house Inditex brands such as Bershka, Pull&Bear, and Stradivarius as well as other renowned and popular concepts like AW Lab, Calvin Klein, C&A, Chicco, Douglas, Game Stop, Foot Locker, H&M, Mango, Mediaworld, Nespresso, and Sephora. Moreover, the Italian brands opening a store at Adigeo include Calzedonia, Carpisa, Gutteridge, Imperial, Piazza Italia, Piquadro, Rinascimento, Salmoiraghi & Vigano, and Trussardi Jeans. Adigeo will also feature a 4,500 m² Interspar supermarket which is fully integrated into the center and which is owned by Austria Spar International, the international holding company of Austrian Spar Group.
Various dining options with 21 cafés and restaurants
Adigeo also features a large range of dining options, with a total of 21 restaurants and cafés in the entire center: The variety of food retailers in the center includes Bauli Caffè, Caffè Veneto, Caffè Vergnano, Cibiamo – La Bottega del Caffè, Illy-Caffè, KFC, La Piadineria, Rana, McDonald's, Old Wild West, and Sushiko. With a large variety of dining options and a comfortable atmosphere, the food court on the first floor that houses ten food retailers and a common seating area for 360 guests will become a meeting place, a place for a short break, for lunch, or to spend time to relax.
Sophisticated architecture in modern Italian design
Adigeo will also set new standards in architecture: The layout of the center resembles an A for "Adigeo". Glass facades provide a bright, friendly ambiance and connect the interior of the mall with the outside area of the center. The interior of Adigeo also follows a clear and elegant design which in terms of its colors and choice of material is inspired by modern Italian design. Premium material and warm colors will create a comfortable atmosphere for visitors. One highlight are the shop facades stretching across two floors which convey a particular spacial feel to the property and provides the shops and the brands with a special way of presenting themselves. A number of seating and lounge areas with elegant sofas and club chairs invite visitors to take a break and spend time there.
The property is intended to meet the standards of the LEED sustainability certificate in gold. The energy performance of the property was already optimized during the planning stage by using energy modeling. Once in operation, energy-saving, LED lights optimized for shopping centers will be used. Photovoltaic Panels installed on the roof of the center supply the property with emission-free power.
Numerous services for customers
In order to make the customers' stay as pleasant as possible, Adigeo offers further services. These include free Wi-Fi in the entire center, a childcare center with free care for one hour, kids' playgrounds in the mall, a baby changing room, a Kid Car and buggy rental, parking spaces reserved for women and families, the "Car Finder" to find your car using a QR code, a modern 3D Wayfinding System, a customer information desk, center gift cards, cell phone charging stations, customer lockers, and the ECE Selfie Photo Box, which can be used to upload photos taken in front of unique backgrounds to social networks. In addition, 2,000 parking spaces directly at the center are available to visitors. Adigeo is located at one of the main arterial roads leading into Verona's city center, which is no more than three kilometers away. It is also only approx. 500 meters from the key freeway exit for Verona. It is also connected to the local bus network.