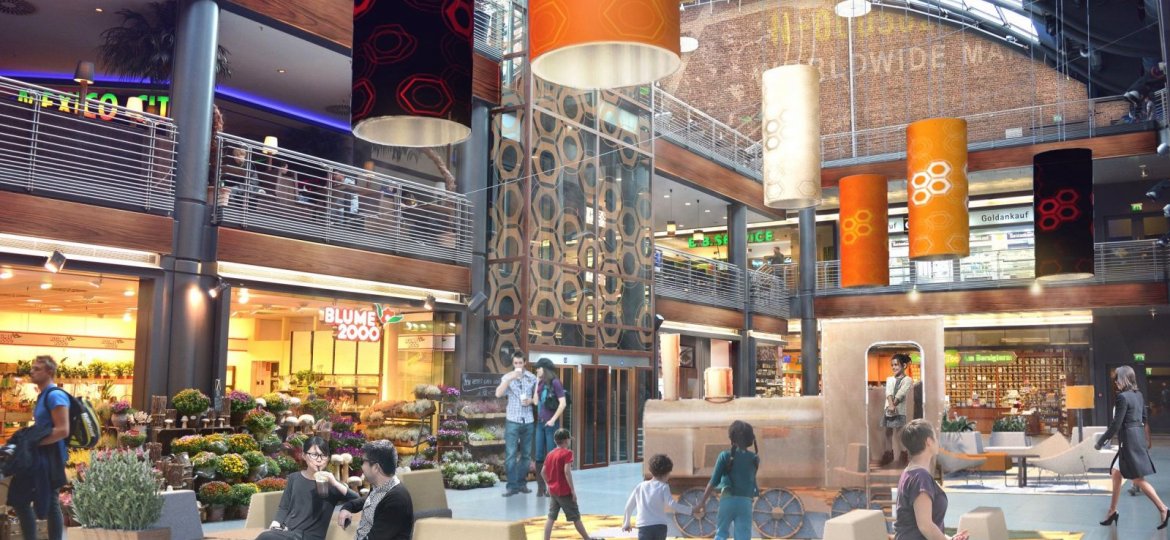 New design concept, comfortable interior, additional services / Multiplex movie theatre plans renovation
ECE will further enhance "Hallen am Borsigturm", the leading shopping destination in northwest Berlin, by launching a comprehensive refurbishment. It will include a new mall design with fresh colors, sophisticated industrial style design elements, and a new lighting concept for an even more attractive ambiance with a highly comfortable atmosphere. The new design concept will link the center to the history of the site and even more emphasize the unique character and industrial flair of Hallen am Borsigturm, which once housed Borsig-Werke, Europe's largest manufacturer of train engines. The redesign and enhancement of the center, which has been managed and leased by ECE since 2011, will be completed by the end of 2018. It is owned by the ECE European Prime Shopping Centre Fund I, which will invest tens of million euros into the property.
The modernization and enhancement of the center includes a new color scheme with warm colors, which brings to mind the historic nature of the property and reinterprets it. Moreover, comfortable seating areas with a lounge appeal will be added and a modern lighting concept with an optimized daylight harvesting system and efficient light elements will create a comfortable atmosphere. The investment also comprises the enhancement of the services at the center: New, clear signing will help improving guidance in the center, a new information desk with an appealing design will be added, and the restrooms will also undergo a comprehensive upgrade and redesign. There will also be a new digital playground for young visitors.
"The comprehensive refurbishment and additional services will be a further upgrade to the shopping and entertainment destination 'Hallen am Borsigturm' and make it even more successful. We want to emphasize the strengths of the center with a new mall design and prepare it for the future," says ECE's Claudia Schrader, who, together with Jan Philipp Rausch is responsible for leasing at Hallen am Borsigturm. "We aim to provide Hallen am Borsigturm with an additional boost and an even better shopping and leisure experience."
Unique mix of shopping, entertainment, and dining
Hallen am Borsigturm is already today a unique mixed-use property with shopping, entertainment, dining, and offices. On three floors the center accommodates approximately 115 shops on a sales area of nearly 22,000 m², an upscale tenant mix, and a number of renowned anchor tenants, including Media Markt, H&M, TK Maxx, and Zara. Other exciting retail concepts in the center are Cookmal, a cooking accessories and kitchen products retailer, the Young Fashion specialist Olymp&Hades, the local "Teehaus am Borsigturm", and further popular retailers such as denn's Biomarkt, Fielmann, Marc O'Polo, Thalia, WMF, and Hunkemöller.
The property also includes 5,000 m² for services and food and beverage retailers, who make up 10% of the center's total sales area and provide a with a varied and striving flair, and different entertainment options that – apart from the shopping options – make the center a vibrant experience and special attraction even in the evening: On approximately 8,000 m², visitors will find a CineStar-Multiplex movie theater, a bowling alley, a 3D mini-golf course, and a Superfit fitness studio, which rounds off the varied offerings and provides additional footfall.
New shop designs – long-term strategy of the refurbishment
A large number of the tenants take the opportunity of the refurbishment to extend their leases, modernize their shops, and present their stores in the latest design: Retailers such as TK Maxx, Gerry Weber, Esprit, Olymp&Hades, and Leiser have implemented their latest shop design. CineStar movie theater, the largest cinema in the north of Berlin, also plans a comprehensive renovation, which will emphasize the entertainment character of the center.
This demonstrates that ECE consistently pursues its enhancement strategy for the property: Since taking over management in 2011, ECE has brought the fashion concept Zara and denn's, an organic food supermarket, to the center and has considerably extended the shop space of the dm drug store.
Leading shopping destination with new center manager
"Hallen am Borsigturm" have thus further developed as the leading shopping and leisure destination in the northwest of Berlin: Approximately six million visitors come to the center every year, which equals approx. 22,000 visitors per day on average – many of them are regular customers. The catchment area in the green city district of Tegel has an above-average purchasing power, which is the second-highest in Berlin. The neighborhood will be further enhanced by a number of planned residential projects, which will result in a higher number of residents.
The refurbishment of the center also marks a change in the center manager position at Hallen am Borsigturm: Peer Hamann will replace center manager Christian Frauenstein, who will take over the management of ECE's Alstertal-Einkaufszentrum in Hamburg. Hamann previously managed Ring-Center Berlin and will bring additional new stimulus to Hallen am Borsigturm.